Carroy Bethea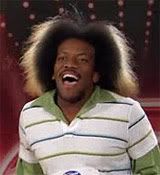 Contestant #70866
Carroy's hair was large with black roots and white ends. In fact, he sort of looked like Eddie Murphy with a skunk on his head.
For his audition, Carroy sang Aretha Franklin's Chain Of Fools as loudly as he could.
Simon noted that it was "a bit over the top," and that's the last we saw of Carroy.